Tweet
Honorary President
Sergio Stanzani
The Secretary
Demba Traoré
The Treasurer
On. Maurizio Turco
"The Senate"
| | | | |
| --- | --- | --- | --- |
| | | | |
| On. Marco Pannella, President of the Senate | On. Maurizio Turco, Vice-president | On. Marco Perduca, Vice-president | On. Matteo Meccaci, Vice-president |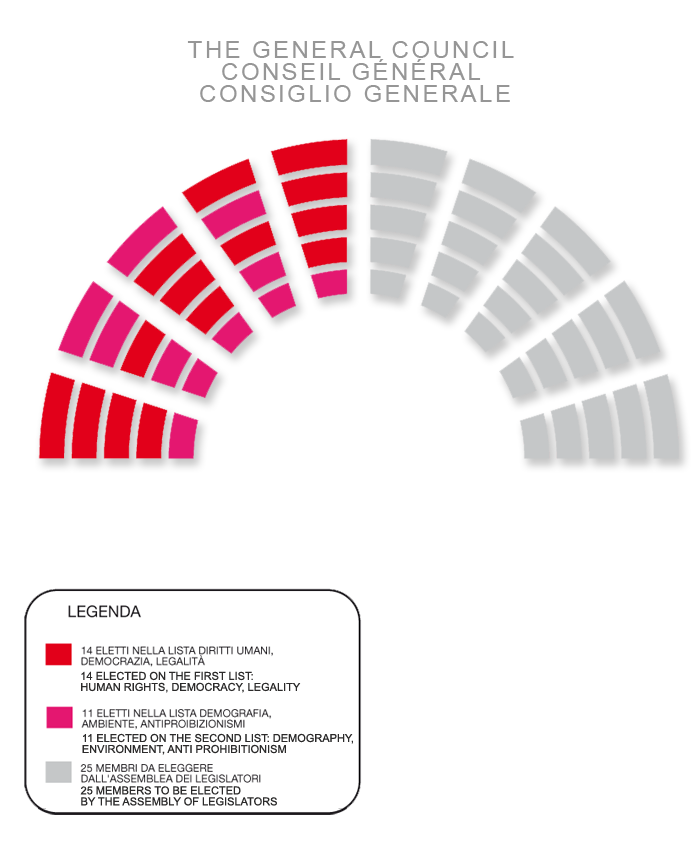 25 consiglieri ancora da eleggere dall'Assemblea Parlamentare del PRNTT
Van Ai Vo
Born in Central Vietnam in 1938, Vo Van Ai was arrested for the first time at the age of eleven for his activities in the Vietnamese resistance movement for independence. In 1964, he became overseas representative of the Unified Buddhist Church of Vietnam. He founded and is the Chairman of Quê Me: Action for Democracy in Vietnam, and is also Editor of Quê Me (Homeland), a magazine in Vietnamese on democracy, human rights and culture, published in Paris since 1976, distributed in Vietnamese communities all over the world and secretly in Vietnam. He is Vice President for Asia of the International Federation for Human Rights (FIDH) and Director of the International Buddhist Information Bureau. Von Van Ai makes regular reports to the UN Commission on Human Rights in Geneva on both human rights and religious freedoms. He has published a number of books of poetry and essays on Buddhism and Vietnamese history.
Vietnam
Matteo Angioli
Born on 18 October 1979, Matteo Angioli began his involvement in the activities of the Radical Party in Pistoia by collecting signatures for 20 referendums in 1995. In 2001 and 2002 he wrote articles from Wellington, New Zealand, for the e-magazine Disobbedisco (I disobey), founded by Matteo Mecacci. He graduated in Political Sciences from the Open University (2008) and the Université Libre of Brussels (2011). He was Marco Pannella's assistant at the European Parliament from 2003 to 2009. Since 2010 he has been a member of the General Council of the Nonviolent Radical Party, transnational and transparty.
Italy
David Borden
Founder and Executive Director of DrugWar.org, David Borden organized programmes including the 'John W. Perry' scholarship for students who have lost financial aid due to drug convictions, and the 'Out from the Shadows: Ending Drug Prohibition in the 21st Century' international conference series, in collaboration with the Radical Party. He graduated in Astrophysical Sciences from Princeton University and holds a diploma in Jazz Composition from New England Conservatory.
United States
Marino Busdachin
Born in 1956, Mario Busdachin studied law in Trieste, where he held the post of municipal councillor between 1978 and 1982. In the 1980s he was active in promoting human and civil rights with the Radical Party in Eastern European countries and the Soviet Union. Between 1993 and 1998 he worked in the United States on campaigns for setting up ad hoc international courts for war crimes in Rwanda and the Former Yugoslavia. He was engaged in the battle for a global moratorium on the death penalty at the United Nations and was Secretary of No Peace Without Justice (NPWJ) from 1994 to 1999. Since July 2003 he has been Secretary General of the Unrepresented Nations and Peoples Organization (UNPO), based in The Hague.
Italy
Hoda El Khatib Chalak
President of the 'Organization for Civil Action', Hoda El Khatib Chalak is attorney at law and lecturer in law at the Saint Joseph University, Lebanon, where she teaches Human Rights and Citizenship, Criminology, and Administrative Law. Co-founder and coordinator for the Forum of Arab Civil Society Strategies, she also co-founded the Kawakibi Center for Democracy Transition and the National Committee for Environmental Activities – Lebanon. She is a member of the executive board of the Arab Institute for Human Rights and of the international steering committee of the Community of Democracies.
Lebanon
Oksana Chelysheva
Journalist, contributor for the Novaya Gazeta where she worked with Anna Politkovskaja. Oksana Chelysheva is a member of the Russian-Chechen Frendship Society. RCFS was set up in 2000 in Nizhny Novgorod and Grozny to report on the situation in the North Caucasus, to look for a political solution to the conflict and to assist victims in Chechnya. RCFS was closed in Russia by judicial order as 'extremist' in 2007 and is now registered in Finland, where she currently lives. In 2006 she received Amnesty International's Special Award for Human Rights Journalism Under Threat.
Russia
Jack Cole
Former Executive Director of Law Enforcement against Prohibition, Jack A. Cole is an activist who campaigns for the reform of drug policies. A retired detective lieutenant, he worked for the New Jersey State Police for twenty-six years, for some time as an undercover narcotics officer. Since retiring, he has been active in working to reform current drug policy. His professional experiences led him to the conclusion that the U.S. Government's war on drugs is unjust and imbued with racism and corruption. He holds a Bachelor's degree in Criminal Justice and a Master's Degree in Public Policy from the University of Massachusetts, Amherst.
United States
Penelope Faulkner
Penelope Faulkner is Vice-President of Quê Me: Action for Democracy in Vietnam, Assistant Editor of Quê Me (Homeland), the organisation's magazine in Vietnamese, and in charge of international relations in the Vietnamese Committee of Human Rights. She is an expert in Vietnamese language and literature and has translated Vietnamese poetry and prose. She is consultant to journalists, writers and broadcasters on Vietnamese issues (including British producers David Attenborough and Michael MacIntyre). She writes articles and short stories in Vietnamese under her pen name Y Lan and is author of a best-selling book of short stories, Quê Nha. She contributes to reports on Vietnam for the BBC, Voice of America and Radio Free Asia, which broadcasts daily to Vietnam.
France
Sabrina Gasparrini
Born in 1977, Sabrina Gasparrini graduated in Political Science from the Sapienza University of Rome. She joined the Radical Party in 1999. From 2001 to 2006 she worked with Benedetto Della Vedova, a Radical member of the European Parliament , and then subsequently with Emma Bonino. Since 2006 she has been International Policy Advisor to Emma Bonino, first in her capacity as Minister for European Policies and then as Vice President of the Senate. She edited the book Adelaide Aglietta, un impegno laico, un impegno attuale. She broadcasts a regular program entitled "The Middle East seen from Cairo" on Radio Radicale.
Italy
Ricardo Alfonso Gonzalez
Born in 1950, Ricardo González Alfonso began working for Cuba Press, an independent news agency, in 1995 and became a correspondent for Reporters Sans Frontières (Reporters without Borders) in 1998. He founded and edited the newsmagazine De Cuba in 2002. In March 2003 he was arrested in the aftermath of the repression known as the 'Black Spring' and sentenced to twenty years in jail. His health deteriorated while in an isolation cell. In July 2010, he and twenty other political prisoners were released and sent to Spain. He currently lives as an exile in Madrid. In 2008, Reporters Sans Frontières named him Reporter of the Year 'for helping an independent press to survive in Cuba.'
Cuba
Saad Eddin Ibrahim
Born in 1938, a sociologist, a former professor at the American University of Cairo and a number of universities in the United States, Saad Eddin Ibrahim is a major supporter of democratic reforms in Egypt. In 1988 he founded the Ibn Khaldun Centre for Development Studies in Cairo. He is a member of the Arab Democracy Foundation. As Secretary General of the Egyptian Election Monitoring Committee, he documented cases of violation and fraud committed by the Government during the 1995 Parliamentary elections. In 2000 he was arrested with twenty-seven colleagues. He was tried and found guilty in a State Security Court on charges of 'conspiracy' and 'disseminating false information abroad, contrary to the interests of Egypt.' The sentence was subsequently quashed by the Court of Cassation. In 2002, after another trial with many irregularities, he was sentenced to seven years of forced labour. After ten months in prison, he was released following international pressure.
Egypt
Rebiya Kader
Born in 1948 among the Altai mountains, in Eastern Turkestan (for China: Xinjiang,), of Uyghur ethnicity, Rebiya Kader is President of the World Uyghur Congress. A successful businesswoman, she was a member of the National Assembly of the People's Republic of China. She was then forced to resign following her public criticism of the government's policy on colonization and oppression of minorities. She was arrested in 1999 for disseminating information 'containing state secrets' abroad. Following an international campaign, she was released after six years and obtained the status of refugee in the United States, where she currently lives with six of her eleven children. Her autobiography, «Dragon Fight: One Woman's Epic Struggle for Peace with China», came out in 2009 and has been widely translated. She was nominated for the Nobel Peace Prize.
Eastern Turkestan
Allieu Kanu
Ambassador, and President of the Institute of International Law, Allieu Ibrahim Kanu holds a Degree in Law from the Thames Valley University of London, Master's Degrees from the University of Southampton and the University of Prague, and a Diploma in International Law from Thessaloniki, Greece. He practiced law in England from 1984 to 1998, when he was appointed Sierra Leone's Ambassador and Deputy Permanent Representative for Legal Affairs to the United Nations. He headed Sierra Leone's delegation at the negotiations that led to the establishment of an International Criminal Court (ICC) and he became the first Vice-President of the Assembly of States Parties of the ICC. He led Sierra Leone's negotiating team for the establishment of the Special Court for Sierra Leone.
Sierra Leone
Khady Koita
Vice-President of EURONET, the European network for the eradication of female genital mutilation, Khady Koita has been engaged in the fight against this practice since 1980s. In 2010 she was awarded the 'Rome for Peace and Humanitarian Action' Prize. She is the author of Mutilée, a book – prefaced by Emma Bonino – which tells the story of the mutilation she and some of her daughters suffered before she freed herself from that social model. Her personal story led to her commitment, through the La Palabre Association, to save millions of little girls from this violence.
Senegal
Kok Ksor
Born in 1944 in a village in the Central Highlands of Vietnam, of Montagnard ethnicity. At the age of fourteen Kok Ksor joined 'Bajaraka', a movement for the autonomy of Vietnam's minority ethnical groups, and five years later the FULRO (United Front for the Liberation of Oppressed Peoples). He also enlisted in the US army, during its operations in Vietnam. He was wounded and captured by the North Vietnamese army in 1968. Later he represented General Enuol, the leader of FULRO, to the US Government and the United Nations regarding the plights of the Montagnard people. President of the Montagnard Foundation, a Nonviolent group founded in the United States at the beginning of the 1990s, he has attended the UN Working Group on Indigenous Populations almost every year since 1993. In August 2001, he took the floor on behalf of the Transnational Radical Party at the UN Commission on Human Rights, following peaceful demonstration by tens of thousands of Montagnard in the Central Highlands of Vietnam asking for religious freedom, the restitution of confiscated lands, and human rights.
Vietnam
Fernando Maura Barandiarán
Born in Bilbao in 1955, Fernando Maura Barandiarán holds a Degree in Economic Law. He is the grandson of Antonio Maura, Prime Minister of Spain under the kingdom of Alfonso XIII. As a university student he was member of the Executive Committee of the Socialist Youth of Spain at the time of its first Congress under Franco's dictatorship. In 1989 he participated in the foundation of the Partido Popular; he has been Secretary General of the Partido Popular del País Vasco and Basque Member of Parliament. In 2007 he joined the Unión Progreso y Democracia, and is currently one of the leaders of the party. He took part in the civic initiative '¡Basta ya!' against ETA terrorism.
Spain
Artur Nura
Freelance journalist Artur Nura holds a Degree in Albanian Literature. He has been a member of the Radical Party since the 1990s, and a correspondent for Radio Radicale since 1992. He is editor-in-chief of the on-line Albanian TV 'Neser' and the on-line daily Gazeta e Vogël and a contributor for Central Europe Review.
Albania
Natalia Radzina
Born in 1979, Natalia Radzina has a Degree in Journalism and is the editor of the Charter '97 independent news portal. She was arrested for 'organizing mass riots' in the demonstrations by the opposition to protest against the presidential election frauds in December 2010. She was detained for longer than a month and was then released under house arrest. A parliamentary question on her case was submitted at the European Parliament in March 2011. The following summer she obtained political asylum in Lithuania, where the Internet site www.charter97.org is registered. In 2010 she was among the nominees for the Index of Censorship Freedom of Expression Award.
Belarus
Begonia Rodriguez
Born in the Basque Country, Begoña Rodriguez lives in Madrid. She has been a human and civil rights activist since the time of Franco's dictatorship, a member of the Radical Party since 1988 and of 'Hands Off Cain' since its foundation. She has coordinated some initiatives of the Radical Party and of 'Hands Off Cain' in Spain, and together with other Radical activists she has been engaged against the tyranny of Cuba, where she was arrested, detained for some days, and then deported in 1996.
Spain
Cesare Romano
Cesare P. R. Romano is professor of Law and 'W. Joseph Ford Fellow' at the Loyola Law School of Los Angeles. He holds a Degree in Political Science from the University of Milan, a Master's Degree and a PhD from the Graduate Institute of International Studies, University of Geneva, and a Master of Law from the New York University, where in 1996 he co-founded the Project on International Courts and Tribunals (PICT). He has always been a sympathizer towards the Radical Party, which he joined in 2001. He is well known for his work on international courts and tribunals, having published seven books and dozens of papers on this topic.
United States
Sergio Rovasio
He started his activism with the radicals in the treasurer's office of the Radical Party at the beginning of the 1980s. For many years Sergio Rovasio collaborated with Marco Pannella at the Radical Parliamentary Group in the Italian Chamber of Deputies (Lower House). He was one of the founders of CoRA (Radical Anti-prohibitionist Coordination), LIA (International Anti-prohibitionist League), the Pannella List and the Radical Association 'Certi Diritti'. In 1987 he was arrested in Moscow and expelled from the Soviet Union, together with other Radicals, for having protested against the war in Afghanistan. He was Secretary General of the Radical Delegation at the European Parliament, the Parliamentary Group 'Rosa nel Pugno' and the Delegation of Radical MPs at the Chamber of Deputies. He is currently heading the secretariat of the councillors' group from the Bonino-Pannella List at the Regional Council of Latium. He was the first unelected candidate on the list.
Italy
William Ryerson
Founder and President of Population Media Center and President of the Population Institute, William Ryerson has worked in the field of reproductive health for several decades. He has used the Sabido methodology for behaviour change through radio and television dramas, adapted to various cultural settings worldwide. Analysis of the effects of these programmes led to a series of publications regarding a serialized radio drama in Tanzania and its effects on HIV/AIDS avoidance and family planning use. In 2006, he was awarded the Nafis Sadik Prize for Courage from the Rotarian Action Group on Population and Development. He holds a Bachelor's Degree in Biology from Amherst College and an M.Phil. in Biology from Yale University.
United States
Antonio Stango
Member of the Radical Party since 1979, Antonio Stango was a member of the Political Secretariat from 1985 to 1995. After pursuing legal and military studies at Modena Academy and Political Science in Genoa University, he organised international conferences, edited specialized magazines and conducted nonviolent actions in the countries of what was then the Soviet bloc. He founded the Arms & Military Technologies Proliferation Watch and the Italian Helsinki Committee for Human Rights. For Radio Radicale and other media he covered events such as the Rumanian revolution in 1989, the warfare in Iraqi Kurdistan in 1992 and the Chechen war in 1995. He coordinated several initiatives of the party in Russia and in the Baltic States. After many missions in crisis zones worldwide for International NGOs, for three years he was the Director of Freedom House's Kazakhstan Human Rights Support Programme.
Italy
Marina Szikora
Born in Zagreb in 1959, Marina Szikora holds a Degree in Italian Language and Literature and Comparative Literature from the Department of Philosophy, Zagreb University. She joined the Radical Party in 1992 and has coordinated party's activities in Poland, Croatia, Slovenia, Hungary, Austria and other Central European countries. In 1997 she was elected Vice-President of the Croatian Association of the Radical Party. Since 1995 she has represented the party on a number of occasions at the United Nations, following the work of the Commission on Narcotic Drugs in Vienna and the work of the Commission on Human Rights in Geneva.
Croatia
Vanida Thephsouvanh
Political refugee in France since 1975, Vanida S. Thephsouvanh is the President of the Lao Movement for Human Rights based in Paris, Vice-President of the Forum Asia Democracy and co-founder of Siddhi Paxa (People's Rights), a magazine in Laotian on human rights that has been secretly distributed in Laos since 1989. For decades she has been active in raising awareness in the international community of the repression of the Laotian regime against ethnic minorities and of the absence of freedom of expression in her country. She has found common ground for her fight in the Nonviolent Radical Party, transnational and transparty, in particular sharing campaigns for the liberation of Laos' political prisoners.
Laos
Grande Satyagraha dedicato a Marco Pannella, dal 22 gennaio 2017
Per una campagna dello Stato italiano in sede ONU per la transizione allo Stato di Diritto codificando - per affermarlo – il diritto umano alla conoscenza
Chiedi al Consiglio del Comune, dell'area metropolitana di approvare questa delibera.
Documentazione consegnata il 4 novembre 2015 al Presidente della Commissione parlamentare di Vigilanza Rai Roberto Fico in occasione dell'incontro con una delegazione radicale.
Documentazione relativa alle iniziative radicali in corso consegnata il 13 maggio 2015 al Ministro della Giustizia Andrea Orlando in occasione dell'incontro con una delegazione radicale.
Leggi ->
Iscritti e contribuenti 2017
| | |
| --- | --- |
| ARMANDO DI TORINO | 200 € |
| MASSIMILIANO AV NUXIS | 200 € |
| LEONARDO PA AUGUSTA | 20 € |
| SALVATORE PE SULMONA | 20 € |
| SANTO PA SAN GREGORIO DI CATANIA | 10 € |
| VINCENZO ES ARIANO IRPINO | 50 € |
| PORZIA AD SPOLETO | 50 € |
| GIOVANNI RA MILANO | 200 € |
| MASSIMILIANO CO ROMA | 300 € |
| NORA CA MONZA | 200 € |
| Total SUM | 397.199 € |